The 100th Convocation ceremony of Banaras Hindu University is being celebrated on Thursday. 57 meritorious students get the gold medal at the ceremony. The Academic session of 2017 and 2018 was organized simultaneously. This year's convocation has been celebrated at the Independence Bhavan place instead of the Amphitheater ground. Scientific Advisor Prof. Vijay Raghavan was awarded the Doctor of Science and Pandit Rajan-Sajan Mishra's honorary doctor and literature degree.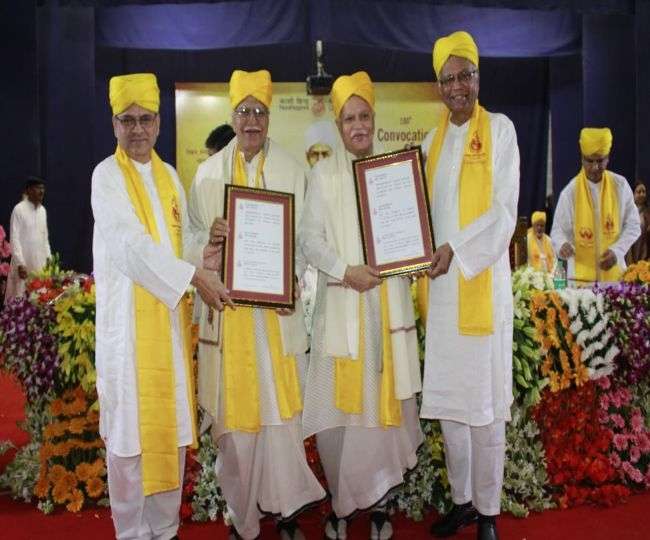 Prof. Pradhan Vishal Advisor Prof. Vijayaraghavan will be awarded an honorary title of D-SC (Doctor of Science). At the same time, Pandit Rajan Mishra and Sajan Mishra were awarded honorary degrees of D-Lit (Doctor of Literature). He was also given honorary title of D-SC and D-Lit. Additionally, 10957 in year 2017 and 11,315 students of the year 2018 will be given the title. Many gold medals will be provided to 31 students of the year 2018 and 31 students of the year 2017.
189 medals in this department
At the faculty level this time 782 medals will be distributed in the function (2017-18). With the highest number of 189 medals, the science department is at number one, while 185 medals are the names of students of the art department. In science department, there are 98 medals in 2017 and 91 medals in 2018, while in the arts department, 92 and 93 students have won medals respectively in the two years. In addition, 99 in IMS, 63 in social science, 50 medals in agriculture faculty will be given.
Four topper students gets highest three-three medals
Four toppers will be given three to three medals in the ceremony. In this, Hari Narayan Pathak, who earned the highest marks in Shastri Honors in Bachelor of Science in 2017, and Dnyanesh Upadhyay in postgraduate Acharya Vedas and Prashant Mishra from stage arts faculty in 2018 and Praanjali Mishra, a student of Acharya Ved in postgraduate, got the maximum score, Three medals will be given.