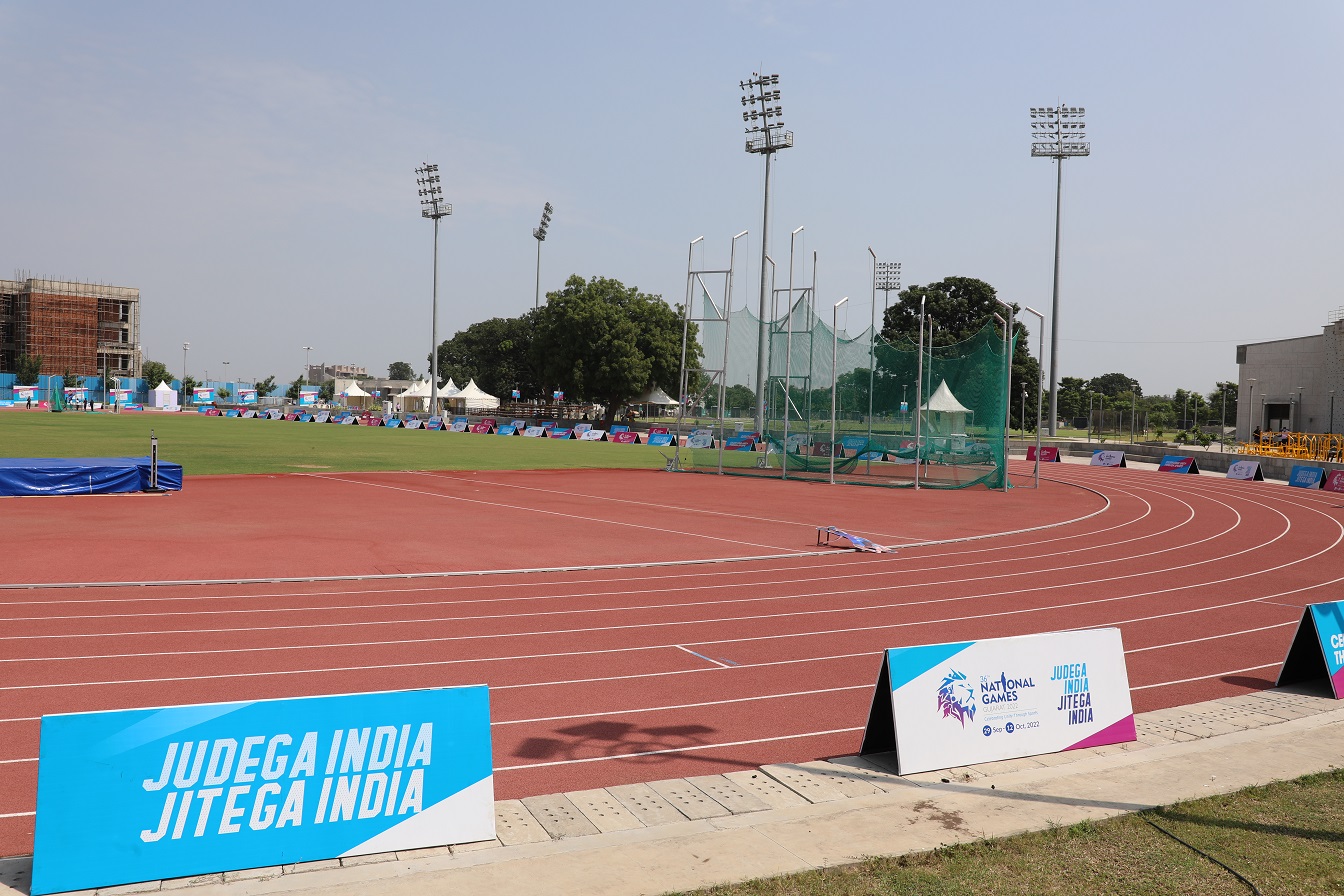 IIT Gandhinagar to host Athletics, Squash, Softball, and Triathalon events of the National Games 2022
---
As the country gears up to witness the 36th National Games and celebrate unity through sports, the Indian Institute of Technology Gandhinagar (IITGN) is excited to host Athletics, Squash, Softball, and Triathalon events of the National Games 2022 from September 30 to October 11, 2022.
As a part of this sports extravaganza, IITGN will host about 45 Athletics events, including track (relay, 100m, speed walk, etc.), jumping (high jump, pole vault, etc.), and throwing events (javelin, shot put, hammer, etc.) during September 30 to October 4. In addition, the Institute will also host Squash matches from October 1 to 5, Softball from October 7 to 11, and Triathlon from October 9 to 11, 2022.
Several national and international-level players and athletes from across the country are going to play at the world-class sports facilities at the new sports complex of IITGN, which is equipped with several top-notch facilities for various indoor and outdoor sports/activities, including Badminton Courts, Squash Courts, Table Tennis Court, Volleyball Court, Basketball Court, Climbing Wall, Football Ground, Cricket Ground, Athletic Track, an Olympic Size Swimming Pool, Yoga Hall, Gym, and so on.
Sharing his thoughts on IITGN being one of the venues for National Games 2022, Prof Amit Prashant, Officiating Director, IITGN, said, "It is a great honour for us to be able to host a prestigious sporting event like National Games at IITGN. We are excited to welcome all the players and sports enthusiasts from every part of the country on the IITGN campus. It is truly going to be a melting pot to celebrate excellence in sports."
Throwing more light on the thriving sporting culture and future vision of sports at IITGN, Prof Jaison Manjaly, Head of Sports at IITGN, said, "We are excited to host several events of National Games 2022 on IITGN campus, where sports is not just an extra-curricular activity, it is very much part of the entire learning experience for students. Leveraging the Institute's world-class sports facilities, we are also working on creating sports research and innovation programmes to contribute to excellence in sports and games."
Talking about the excitement for the event in the IITGN student body, Akhilesh Chauhan, Student Sports Secretary, IITGN, said, "The entire student body is excited to witness the hustle of athletes, coaches, and managers from 30th September as they come to participate in the 36th National Games. IIT Gandhinagar has a beautiful campus on the banks of river Sabarmati, with great sports facilities that cater to the needs of budding sportspersons. With the inauguration of the newly constructed sports complex, the sporting opportunities keep rising. This national-level event will bring more colour to our sports complex and give a boost to the sports culture of IIT Gandhinagar. The student body of IIT Gandhinagar is going to actively participate in the National Games as volunteers and as an enthusiastic audience."